Triple Magazine Pouch ACU Camouflage, Pack of 10 Military Surplus MOLLE Pouches
Lot of Ten (10) Triple Magazine MOLLE II Pouches in ACU Universal Digital Camouflage. These three-pocket pouches hold three (3) standard 30 round AR-15/M4 magazines each (.223/5.56). A great addition to your kit whether its paintball, airsoft, preppers, sport shooters, or professional operators. Pouches secure via three MOLLE straps and have additional MOLLE webbing on the front allowing for additional pouches. Made from heavy weight Cordura Nylon, the pouches measure approximately 10" x 7-1/2". The pouches close via a single snap ensuring a secure fit for your magazines. This is genuine US Army issue gear.
Warrior Quest 1000D Nylon Folding Tactical Dump Pouch – Foldable Molle Magazine Mag Dump Pouch (ACU Camo)
Various Colors in option : Black / Tan / Army Green / Grey / CP Multicam Camo / ACU Camo / AOR1 Camo / AOR2 Camo / Mandrake Camo / Typhon Camo / A TACS AU / A TACS FG . Our product color offering a good selection of choices for you cater to your own special need !
Genuine US Military GI M4 Double Mag Pouch Molle II AR15 M16 ACU Digital Camo Made In USA
This is a genuine military surplus double magazine ammunition pouch. Designed for Molle II gear with ACU digital camouflage pattern, front hook-pile closure and straps with snaps on back of pouch.
New US Army Military Tactical ACU Camo Molle II FIGHTING LOAD CARRIER VEST + 9 POUCHES (3 Double Mag, 2 Canteen, 2 Hand Grenade, 2 Triple Mag) FLC LBV Rifleman Real by US Government GI USGI
ACU Digital Camouflage MOLLE II Fighting Load Carrier Set (1 vest + 9 pouches). Condition: NEW in sealed Bag. Manufactured in the US by Specialty Defense Systems or Michael Bianco. Great for Hunting, Paintball, Airsoft, Tactical Operations, or any other outdoor activities. THE SET (10 pieces unassembled): 1 X - MOLLE II Fighting Load Carrier (FLC) Vest - NSN - 8465-01-525-0577. 3 X - MOLLE II Double Mag Pouches - NSN 8465-01-525-0606. 2 X - MOLLE II Canteen/Utility Pouches - NSN - 8465-01-525-0585. 2 X -MOLLE II Hand Grenade Pouches - NSN 8465-01-525-0589. 2 X -MOLLE II Triple Mag Pouch - NSN 8465-01-525-0598. FEATURES: This quality flc has eight rows of MOLLE II 1" webbing on the outside to attach pouches or any gear you may want to haul around. Also includes 2 inside mesh waist pockets with velcro closures. One size fits all. Fully adjustable as far as width and height and will fit up to a 48" waist. Can be zipped up or buckled. Waist features a "T" shaped webbing tab on each side that can be slotted in at any place along waistbelt to adjust width.
Official US Military Army ACU Molle II M4 2 Double Mag Ammo Pouch (ACU Camouflage) by The Specialty Group Inc
Holds (2) 30 Round 5.56/223 - M4/M16/AR15 magazines. Flap secures with adjustable Velcro closure. Flap allows for quick and easy access. Heavy duty nylon Fabric. Attaches to the Molle II system through 2 attachment straps on back Approximately 7.25" x 3.75" x 2". Made in USA
HELIKON-TEX Urban Line, UTP Urban Tactical Pants Ripstop Coyote Brown, Military Ripstop Cargo Style, Men's Waist 36 Length 32
When you need pants to hold up to rugged adventures, choose the most reliable men's tactical pants available Helikon-Tex. Whether you are on a security detail, prepping for an outdoor trek, or spending a day at the gun range, you need a pair of tactical pants that are comfortable, durable and hold all the essentials without sagging or wearing you down. That is why we at Helikon-Tex created a pair of urban tactical men pants with law enforcement, outdoorsman, and rugged adventurers in mind. Patented Design These UTP pants are crafted using polycotton ripstop, a premium fabric blend that provides load bearing capabilities, durability and comfort far beyond anything else on the market. And with enhanced stitching, a stretchable waistband, and metal YKK zippered fly, you can stay fluid and unhindered when making quick, tactical movements. With its 12 total pockets and internal pockets that let you add additional padding for protection, these Urban Tactical Pants will help you carry all your essential equipment in an organized fashion. ACCESSORIES AND BELT NOT INCLUDED Product Details: 12 Versatile, Low-Profile Pockets Reinforced Knee Stitching Stretchable Waistband (Extra Comfort) Fabric: 60% Cotton, 37% Polyester, 3% Spandex Metal YKK Zippered Fly Internal Pockets for Add...
DeltaSix MOLLE Taco Mag Pouch + D-Ring Camo Tactical Accessories for M4, M16, AR15, AK47 & AK74 30-Round Magazine - ACU Taco Attachment w/D Web Clip for Leo & Military LBV, FLV, PlateCarriers
Looking for fast access to your 30-Round Magazines?DeltaSix gave you a modern twist on the classic Taco Mag Pouch to make it faster and more flexible.Using Snap-Back Straps instead of clunky clip-straps, this ACU Camo MOLLE Mag Pouch uses Snap Strap loops that mount your magazines in the perfect location - even at an angle.Your MOLLE Mag Pouch avoids the cheap plastic parts and noisy velcro-type fasteners. Instead, you get Mil-Spec 1000 D Nylon and rugged ShockCord pulls that fit just about any make of 30-Round Magazine, so no need to worry about losing mags - even while fast roping, repelling, or crawling.This tactical pouch is MOLLE compatible from front to back with extra webbing on the front of each pocket section.Use the front MOLLE webbing to double-stack magazine pouches and keep more ammunition close for quick to draws.As you check out the pictures you'll notice how your DeltaSix MOLLE Mag Pouch mounts to:✔ Fighting Load Carrier✔ Load Bearing Vests✔ Plate Carriers✔ Rucksacks✔ Range bags✔ LEO chest rigs✔ Civilian body armorAnd it mounts without the clunky clip straps.The Snap-Back straps let you add, remove, or quickly reposition pouches (even at an angle), so your Mags stay in the right position for fast reloads during for any SHTF scenario.Plus, DeltaSix we...
New MAGSHOT Safety Glasses ACU Camo Frame - Hunting/Shooting Adaptable Magnifiers (1.25 Mag Adapter, Clear)
We make specific clip in full magnifiers for these frames. The Magnifiers are available from 1.25-3.00. See our Store, or search for Magshot Safety Glasses. The Magnifiers are also available separately for multiple magnification purposes.
Rothco MOLLE Gear ACU Camo Triple Mag Handgun Clip Pouch
Keep your ammo where it counts with this triple open top magazine pouch in ACU Digital. Made of 600D polyester this mag pouch is built to last. MOLLE compatible with elastic top holders.
Lancer Tactical Ca-310b Cross Draw Vest in Black (ACU Digital Camo)
Lancer Tactical CA-310 Cross Draw Vest. SIZE: Fully Adjustable - One Size Fits Most. MATERIAL: 600 Denier Polyester and Mesh PALS WEBBING: Back. SHOULDER STRAPS: Adjustable Velcro Straps with 2 D-Rings. WAIST STRAP: Heavy Duty Adjustable Belt w/ Quick Release Buckle and 2 Pistol Magazine Pouches. VELCRO PANEL: 4 Panels - Upper Back, Ammunition Pouch, behind the Pistol Holster and Pistol Magazine Pouch. PISTOL HOLSTER: Removable w/ Velcro Flap Magazine Pouch and Quick Release Buckle MAGAZINE POUCH: 4 Integrated AK Dual Magazine pouches w/ Velcro Flaps (holds 8 Mags), 6 Pistol Magazine Pouches - 3 on the Vest, 2 on the Belt and 1 on the Holster AMMUNITION POUCH: Integrated w/ Velcro Flap, Velcro Panel and Removable Shot Gun Shell Carrier TACTICAL POUCH: Small Pouch w/ Velcro Flap HYDRATION COMPARTMENT: Velcro sealed Mesh Pouch on the Back Panel, fits up a 2.5L Bladder. INTERIOR POCKETS: 2 Large Mesh Compartments with Zipper. EXTRAS: Front Zip for Rapid Removal, Mesh Construction for Breathability. The Vest, Belt and Holster can be used independently.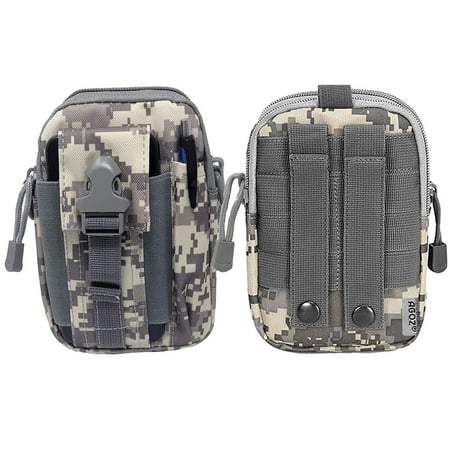 Mag Acu Camo
Agoz Tactical Pouch Belt Molle Bag Cell Phone Holster EDC Holder IFAK Case ACU Camo Camping Hunting Fishing Biking Outdoor Travel for Sonim XP8, XP7 XP7700, XP6 XP6700, XP5 S, XP5 XP5700
Mag Acu Camo: find, shop, buy, compare
---
---
aDealaLot Search Engine searches more stores for the cheapest prices on Mag Acu Camo to help you save time and money. Compare prices, read product information, store ratings, find similar products, rebates, closeouts, new and refurbished products, narrow your price search to find exactly what you want, read consumer reviews on the product you are interested in and much more. Always find the cheapest price before you buy your product.
Tactical ACU Digital Camo Vest- Review
Mag Acu Camo
- Crossdraw Holster - 3 Pistol Mag Pouches / 3 Rifle Mag Pouches -Web Belt w/ 2 Pistol Mag Pouches - Radio/Utility Pouch - US MOLLE Compatible (Utilities, and Accesories) - Includes back pouch for CamelBak or Hydration System Bladder $39.99 from airsplat.com