Pet Travel Carrier Bag, Morpilot Portable Pet Bag - Folding Fabric Pet Carrier, Travel Carrier Bag for Dogs or Cats, Pet Cage with Locking Safety Zippers, Foldable Bowl, Airline Approved
Lightweight and portable - Enabling you to bring your pet to any place that you want.Product description: Take your pet safely with the soft transporter. Designed to keep the animal protected, safe and comfortable. This pet carrier is ideal for traveling by plane or automobile or simply to visit a veterinarian and is suitable for dogs and cats weighing up to 16kg. Robust and reliable design: For safe transport, the transporter is equipped with 2 connectable handles to transport the animal and maintain balance. It also includes an adjustable shoulder strap to carry it without using your hands. It can be folded and placed under the seats of the aircraft; In this way, you can always take your pet with you without having to travel separately. The pet support has a side opening to allow the animal to enter without problems. The durable zipper keeps the openings tightly closed during transport. Comfortable style: The ventilation panels with breathable mesh in three directions not only ensure adequate air flow, but also allow the animal to look out. The pet stand has a removable base that creates a solid and stable surface for your pet and, together with the removable wool rug, offers a comfortable bed where your pet can sleep during a trip. It is the ideal option to travel with your pe...
One for Pets Double Cat Show House/Portable Dog Kennel/Shelter, Red, 24″x24″x42″ - Seat-Belt Fixture Included
This terrace design portable fabric kennel is made to use as a pet home, or a cat show house. This unique design provides you with the lots of features.
Mr. Peanut's Airline Approved Soft Sided Pet Carrier, Low Profile Gold Series Tote, Premium Brand Self Locking Zippers, Under Seat Compatibility, Plush Faux Fleece Bedding with a Sturdy Plywood Base
Mr. Peanut's Deluxe Foldable Soft Sided Travel Pet Carrier with Fleece Bedding The pet carrier you have purchased is designed with high quality materials to keep your pet calm, safe and secure with a latching system and an interior leash ring to attach your pet. The carrier is light to carry but yet firm and durable to protect your precious pet. The non stain fabric is very easy to keep clean. FEATURES: • Open Air Large Mesh Windows on Top and both Sides • Multiple Pockets for Storing treats and other Essentials • Padded Shoulder Strap and Hand Carry Handle • Washable and Removable Fleece Pet Bed • Washable Soft-sided Pet Carrier • Lost & Found Tag Holder • Lockable Zipper • Large 17" L x 10.5" W x 11" H Please keep in mind while considering a soft sided pet carrier that while the Oxford 900D Fabric is quite strong and durable, if your pet is one who chews or claws they may be able to destroy the window mesh inherent in a soft sided carrier if left unattended.WHAT MAKES US BETTER? QUALITY AND TESTING - We use our products with our own pets, and we test and improve our products constantly to provide you the absolute best quality at the most excellent every day price possible. Even our no-frills packaging is designed to ensure your product is delivered as ...
AmazonBasics Large Soft-Sided Mesh Pet Transport Carrier Bag - 20 x 10 x 11 Inches, Black
An Amazon Brand.
One for Pets Fabric Portable 2-in-1 Double Pet Kennel/Shelter, Black 20"x20"x39" - Car Seat-Belt Fixture Included
This Soft-Sided portable fabric kennel is designed to use as an indoor or outdoor dog kennel, cat kennel, or a show shelter. It incorporates ultra streamlined designs with modern styling details and advanced functionality.
EliteField Soft Sided Pet Carrier (3 Year Warranty, Airline Approved), Multiple Sizes and Colors Available (Large: 19" L x 10" W x 13" H, Black)
The EliteField airline-approved Soft Sided Pet Carrier is perfect for cats, small dogs, and other small pets. Please measure your pet's height and width prior to selecting a carrier to ensure correct fit. The special features include a removable fleece bed cover with an insertable hard support board that keeps the carrier in a good shape and makes your pet feel more comfortable, a built-in leash that allows your pet to be secured to the carrier, buckle belt loops that allow the carrier to be restrained with a seat belt for car travel, and a side zipper opening that allows you to easily reach your pet. The pet carrier is made from a durable, lightweight, waterproof material that is easy to clean. The top and sides are made of mesh netting for added sunlight and breathability. There are two pockets for accessory storage, and hand carrying straps and an adjustable padded shoulder strap that allow for many carrying options. The pet carrier is manufactured and sold by EliteField and comes with a Product Quality Guarantee, 100% Money-Back Guarantee, Customer Satisfaction Guarantee, and a 3 Year Warranty.
Petsfit 19"x12"x12" Expandable Foldable Washable Travel Carrier, Not All Airline-Approved Pet Carrier Soft-Sided
Storefront Link: www.amazon.com/shops/petsfit Basic information: Fabric: 600D X 600D Oxford cloth Lining: 230D polyester Mesh: hexagonal Zipper: metal slider and nylon teeth and durability is 10000 times Dimension: Small: 41cm x 25cm x 23cm Medium: 46cm x 28cm x 28cm Large: 48cm x 30cm x 30cm NOTE: ALL MATERIAL IS NO HARM TO PETS. Designs and Functions: 1. Several mesh designs makes it good ventilation. 2. Expandable area let pet have more space to move and increase air circulation. 3. Wire frame in both sides support the carrier to be more stereo. 4. Nylon woven tape hand and shoulder strap is strong to carry. 5. Two zipper doors are easy to access. 6. Soft fleece mat is comfortable for pets. 7. Side-pockets can store small goods. Warranty: 1. Petsfit adhere to Amazon Return Policy. 2. Within 30 days, any quality problems, we will take full responsibility. 3. Any damages happened during shipping period, we will burden the cost. Attention: Please kindly check with airline company before you travel to avoid fly troubles.
DEXDOG Portable Travel Pet Carrier Canvas Comfortable, Soft Sided, Tote Carrier Bag | Ideal for Shopping, Subway, Train, Walking (Large, Dark Grey & Navy) Updated 2019
Get The Most Value For Your Money With This Top-Rated Pet Carrier! Go shopping and have your pet perfectly secure in this fashionable little nest. On your flight, cherish the company of your precious little friend safely placed on your lap, in the convenience of this soft travel tote. Zippered access along the top enables easy pet placement aside from using the pet window directly and is especially helpful for cleaning. Includes a safety leash attachment and zipper closer with fur guard protection. With a size of L17'' X W8'' X H15", this ergonomic pet carrier purse is ideal for small dogs or cats up to 25 lbs and up to 15" long and 14" in height. This dog carrier tote is washable at 40 degree Celsius! The material used is hypoallergenic, soft and retains its elasticity and original form even after frequent washing. It is big enough for your pet to feel comfortable and small enough to place it under the seat. Do you want to keep your pet close at all times? No problem, our dog carrier is very light weight so you can put it on your laps and enjoy your travel. Just take the travel pet purse out of the case and let your puppy's crazy tail wiggling make your day! If your new pet travel tote does not make you perfectly happy, we will be glad to fully refund you. To us, customer...
Pet Magasin Soft-Sided Pet Travel Carrier (Airline Approved) for Cats, Small Dogs, Puppies and Other Pets by (Large, Blue)
Pets love this soft carrier with its padded interior. Hard-floored carriers make pets feel unsteady as the carrier is jostled about, increasing their stress level. Many owners have reported that their pets who hate other carriers are happy to settle down and take a nap in this one. It is soft, light weighted, and can be folded flat for storage; this carrier is sturdy and durable. The floor is firm underneath the padding, so it will not collapse under very heavy cat or dog. Waterproof material makes it easy to clean inside and out. There is a suitcase-style carry-handle, and also an adjustable padded shoulder strap for long hauls. If you are worried that your pet might "make a dash for it" as soon as you open the carrier, there's a short leash attached to the inside of the case that you can clip to a collar. A mesh pouch on the outside gives you a place to store a leash, a bag of treats, or other travel necessities. Pet Magasin Direct, a Nevada USA LLC, is committed to provide the best quality pet products and the best customer experience to pet owners.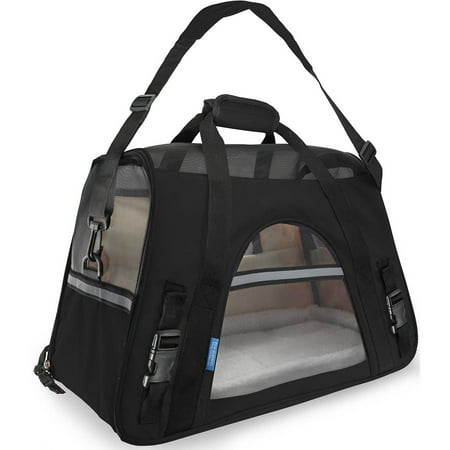 Fabric Pet Carriers
Paws & Pals Paws & Pals Soft Sided Cat/Dog Pet Carrier, 2018 Design, FAA Airline Approved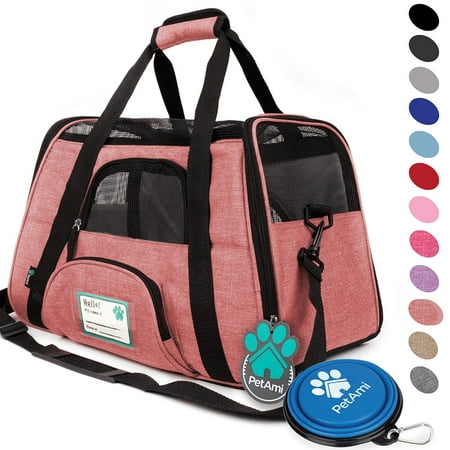 Fabric Pet Carriers
Premium Airline Approved Soft-Sided Pet Travel Carrier by PetAmi | Ventilated, Comfortable Design with Safety Features | Ideal for Small to Medium Sized Cats, Dogs, and Pets
Fabric Pet Carriers: find, shop, buy, compare
---
---
Tips to find the best prices on Fabric Pet Carriers. Always take into consideration specials, rebates or other savings, including shipping, handling and taxes. aDealaLot Search Engine will always search for these offers, including the total cost, and provide you with the best price. New products, merchants and services are always being added to help you save time and money. Compare prices, read reviews on products and merchants and find specials not offered anywhere else.
Songmics Folding Fabric Pet Carrier - Review
Fabric Pet Carriers
This was ordered for Holly the Wonderdog, our nine year old Jack Russell Terrier. She is a bit of a nervous passenger, and doesn't like traveling in a car unless she's safely snuggled into a comforting crate or carrier. We did have a plastic carrier before, but it has seen better days and is starting to fall to bits. Although it has served us well, I wont be mourning it, as it was a nightmare to store, as it didn't fold down. This is the polar opposite. It's neat, slick, and very tough! It ...