DEWALT DW2166 45 Piece Screwdriving Set with Tough Case
The DEWALT DW2166 45-Piece Screwdriving Set with Tough Case includes the most commonly used screwdriver accessories. It has Philips, square, slotted and double-ended screwdriver bits. The industrial-strength case they come in is durable and provides organization, portability and protection of the bits.
DEWALT DWA2T40IR IMPACT READY FlexTorq Screw Driving Set, 40-Piece
DEWALT DWA2T40IR 40-piece Impact Ready Screw driving Set is part of the DEWALT Flexor line of power tool accessories. Flexor allows bits to flex up to 15 degrees which equals increased durability and reduced breakage for longer bit life. This set allows you to maximize you Impact ready system. It features a 10x Magnetic Screw Lock System for strong fastener retention and is preferred by professionals everywhere. The bits are placed directly in the impact driver; no run out and allows for access areas. It also minimizes drops and reduces wobbling. This set features a full range of sizes, from 2-inch to 6-inch screw driving bits and are removable to be used across a full bit set. These bits are durable and jobsite tough. Set includes: (1) 3/8" Untested, (1) 1/4" Untested, (1) 5/16" Untested, (1) Impact Ready Sleeve, (1) 3" Impact Ready Screw Lock Holder, (6) 2" PH2 Impact Ready Bits, (1) 2" SQ2 Impact Ready Bit, (1) 2" T25 Impact Ready Bit, (1) 2" SL8 Impact Ready Bit, (4) 1" PH2 Bits, (2) 1" SL8 Impact Ready Bits, (1) 1" SL6 Impact Ready Bit, (1) 1" PH1 Impact Ready Bit, (1) 1" PH3 Impact Ready Bit, (1) 1" SL10 Impact Ready Bit, (3) 1" PH2, (1) 1" T15 Impact Ready Bit, (3) 1" T20 Impact Ready Bit, (3) 1" T25 Impact Ready Bit, (1) 1" T30 Impact Ready Bit, (2) 1" SQ2 Impact Ready Bi...
DEWALT DW2530 35 Piece Magnetic Compact Rapid Load Set
Add speed and precision to your driver set-up with the DeWalt Rapid Load Drilling and Driving Set. Designed to work with all corded and cordless 3/8-Inch and 1/2-Inch drills, this system makes use of a ball-groove set-up that is pressure-activated. Bits slide smoothly in and out of the holder for faster switches on the job, and sturdy, 1/4-Inch hex shank holds bits in place to minimize the frustration caused by slippage. Includes the most comon drilling and driving accessories in a tough case.
DEWALT DWA2T35IR 35 Piece IMPACT READY FlexTorq Screwdriving Bit Set, Black/Silver IMPACT READY FlexTorq Screw Driving Set, 35-Piece
The DEWALT DWA2T35IR 35 Piece IMPACT READY FlexTorq Screwdriving Bit Set is a 35-piece screwdriver kit with plenty of screw tips for all of your driving needs. Specifically designed for impact driving, our FlexTorq bit tips reduce breakage. They minimize drops and reduce wobbles for more time working and less spent picking up fallen screws than with other hand tool sets.
DEWALT DW2024B6 No. 2 Phillips/No. 8 Slotted Double Ended Bit, 6-Pack
Bit size: #2/#8 in. Bit type: Phillips/slotted. Shank diameter: 1/4 in. Bit length: 2 in. Number of pieces: 6 pc. Shank Type: hex.
DEWALT 100-piece Combination Impact Screwdriver Bit and Drill Set
This item is brand new to the DeWALT lineup. Includes 4 ToughCase Carrying Cases. Full details on pieces are as follows: (24) 1" PH bits, (16) 1" SQ bits, (12) 1" SL bits, (4) 1" STAR, (19) 2" power bits, (6) 3-1/2" bits, (3) nut drivers: 1/4", 5/16", 3/8", compact magnetic drive guide, magnetic bit tip holder, and (14) gold ferrous drill bits Includes the most commonly used screwdriver accessories. Magnetic drive guide reduces wobble. Pilot Point tip starts on contact for clean, accurate holes and reduces lock-up on breakthrough. No Spin shank eliminates the frustration of bits spinning in the chuck. Tapered web provides greater durability to reduce breaking. Optimized for exact fastener fitment to reduce cam-out. Full hex design increases bit tip strength. Heat treat maximizes torque.
DEWALT DW2174 18-piece DEWALT Screwdriving Set
Screwdriver Bit Size: Multi-Size. Number of Pieces: 18 stk. Shank Type: Universal. Bit Size Type: Assorted. Tough case.
Yakamoz 23Pcs Long Magnetic Screwdriver Bit Set Drill Screw Driver Power Tools Kit | 8pcs Torx Security, 9pcs Cross Phillips, 6pcs Hexagon Hex Head | Quick Change 1/4-Inch Hex Shank | 4-Inch Length
Yakamoz 23 in 1 Torx Cross Phillips Hexagon Hex Magnetic Screwdriver Bit SetFeature: 100% Brand New and High quality Build-in strong magnetic with smooth surface and it is wear resistance.1/4" Hex quick change design, professional and convenient, high efficiency. Can be used for manual electric screwdriver, screwdriver, drill, air and other tools. Specification: ◆ Size of Torx Bit: T8, T10, T15, T20, T25, T27, T30, T40 ◆ Size of Cross Phillips Bit: 3.0mm*PH1, 4.0mm*PH1, 4.0mm*PH2, 4.5mm*PH1, 4.5mm*PH2, 5.0mm*PH1, 5.0mm*PH2, 6.0mm*PH1, 6.0mm*PH2 ◆ Size of Hexagon Hex Bit: H2.5 (2.5mm), H3 (3mm), H4 (4mm), H5 (5mm), H6 (6mm), H8 (8mm) ◆ Material: S2 Alloy Steel ◆ Type of Shank: 1/4 inch hex◆ Overall Length: 4 Inch/ 100mmPackage Includes:8pcs Torx Bits9pcs Cross Phillips Bits6pcs Hexagon Hex Bits
Neiko 10224A Extra Long Security Power Bit Set, 32 Piece | 1/4" Shank, 6" Length | Premium S2 Steel
The 32-piece set work with the home, mechanics, DIY projects, garage and more. With extra long 6-inch bits, it's easier to get into deep hard-to-reach places. Each security bit is heat-treated and made from durable S2 steel. Set includes: Torx Tamper: TT8, TT10, TT15, TT20, TT25, TT27, TT30, TT35, TT40, Hex Tamper: 2, 2.5, 3, 4, 5, 6mm; Tri-Wing: #1, #2, #3, #4; Spanner: 4, 6, 8, 10 mm; Torx bit: 6, 8, 10mm; Pozidriv: PZ1, PZ2, PZ3; Philips: #1, #2; Slot: 6mm. Comes complete with blow mold case.
Dewalt 100-piece Impact Screw Driving Bit Set
For your drilling and driving projects, turn to this DEWALT 100-piece set of bits. The tough case with a bit retention system keeps all the bits secure and conveniently organized. Additional Features: •Added Protection •Sustainability •Durability •Secure Packing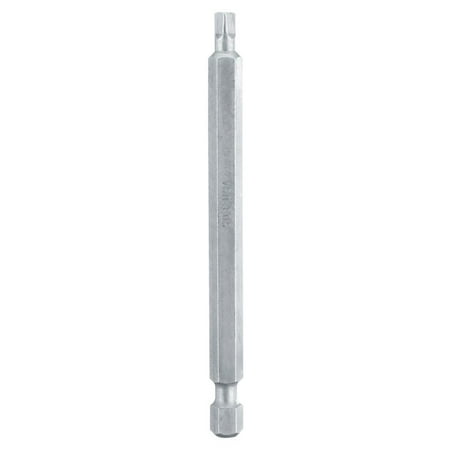 Dewalt Screwdriver Bits
DeWalt Square Recess #1 in. x 3-1/2 in. L Screwdriver Bit Heat-Treated Steel 1/4 in. 1 pc.
Dewalt Screwdriver Bits
Screwdriver Bit Set, 67 Pieces – Compact Durable Metric and SAE Multipurpose Specialty Bit Set With Storage Case for Power and Hand Tools by Stalwart
Dewalt Screwdriver Bits: find, shop, buy, compare
---
---
aDealaLot Search Engine is a new technology comparison shopping portal. Compare the cheapest price on any product. Online shopping is now fast, easy and free. Compare prices on Dewalt Screwdriver Bits before you make a purchase and find the store that sells your product for the best price. Comparison shop the internet for the lowest prices. Easily search thousands of stores on millions of products and save time from going to store-to-store checking prices.
DeWALT Tools Flex Torq Bit Set - WATCH BEFORE YOU BUY!!
Dewalt Screwdriver Bits
DeWALT Tools Flex Torq Bit Set - WATCH BEFORE YOU BUY!! Today we talk about a screwdriver bit set from DeWALT Tools! This is the DeWALT Flex Torq Impact Ready bit set that comes with a magnetic bit holder. Which is bit set is better from DeWALT tools? Max Fit or Flex Torq? Today we give you the answer! Make sure to watch this video before you buy!